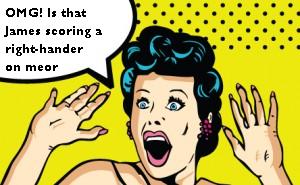 Went in to test pilot the Blue Streak Omni this morning and expose it to terrible meorage (much to G's annoyance). Got a few nice rights. Enough to evaluate the handling and put the claims of the manufacturers to the test

.
8.30AM: Averaging 2-3ft Onshore and growing nastier every second. Heavy close-outs.
The stippleback vulkem deck was
AWESOME
- better for paddling out through the sh*t, duck-diving, and seemed to make the mat more responsive to subtle changes in body position when under way.
As others have commented elsewhere, the mat really wanted to take-off and get going. This was more noticeable than on our other mats. The conditions were far from smooth yet the mat seemed to home in on the sweet spots.
I think the combination of the Blue Streak deck and the overall dimensions of the Omni made for a really harmonious ride.
Turns really well. Seems to be more input from the rear corners when banking and loading the rail for trim.
Fast too. Screams at you to get your fins out of the water so it can outrun a localised close-out and reach a fresh section.
Can't wait for some 2-3ft clean to turn up as this is going to be a guaranteed stoke generator!
I can't see what could be improved TBH.
Last edited by James H on Sun Dec 02, 2012 3:00 am; edited 1 time in total