Having acquired the aforementioned fins off G, here is my assessment of the new formula Duck Feet after 3 hours in the water with them.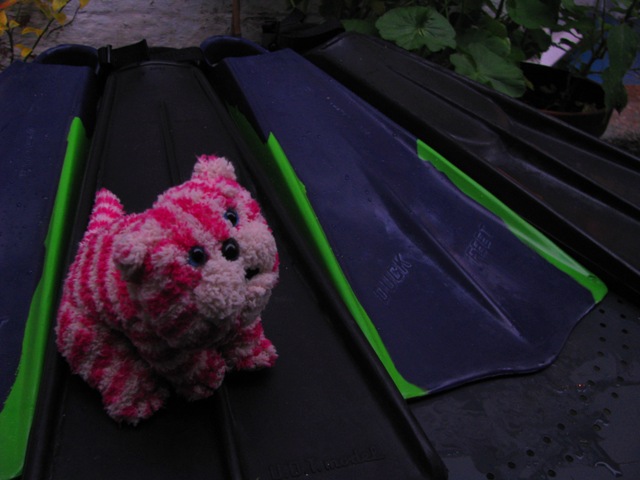 Footpocket and Straps
At first glance I knew the footpocket was going to cause a few issues. My feet are bang-on UK 11 (US 12) and even though these fins are moulded as a Super XL they are quite tight (as the footpocket narrows significantly as it reaches the strap). A UK 11 is the limit these will take with fin socks.
The top of the footpocket was moulded straight across with no beading or concave. Surprisingly less ergonomic than the UDT in fact. This meant I had to reshape the top of the footpocket using a silicone carbide block and 320 wet n' dry.
The result was a little more room and less rub/pinch on the tops of my ankles. Also made the strap less constrictive when on.
I also glued a square of 3mm neoprene inside the top of the footpocket to increase comfort and reduce rubbing.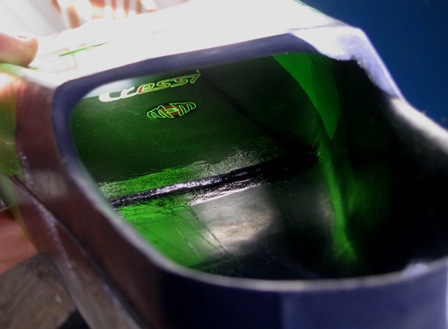 The straps give a pretty bombproof fixture so no chance of these getting pulled off.
Blade
Excellent. I really like the soft rubber and the flutter you get with these. They power up faster than UDTs and drag less in the water. With less pronounced splines the hold was not quite as dramatic as the UDTs which seem to dig in more and extend the rail through your leg with less user input.
Verdict
Overall the new Duck Feet felt really good in the water.
The main drawback is that the footpocket needs to be modernised (and widened). It just feels too dated. I'd recommend VOIT correct this one day as they could produce an amazing fin.
In more thumping surf I'd opt for my good ol' UDTs purely because they will get you out of the sh*t with confidence if you get separated from your mat. You can tell the UDT was military SCUBA hardware as the sizing allows for socks/ boots unlike the Duck Foot which I now see was conceived as a barefoot or recreational fin.
Finally, a point on looks. I'd opt for the new formula Duck Feet over the new formula UDTs as the green/brown colour scheme on the latter is simply 'deader than A-Line flares with pockets in the knees' (to quote Cat from Red Dwarf).
Laterz

Last edited by James H on Thu Dec 06, 2012 8:48 pm; edited 1 time in total