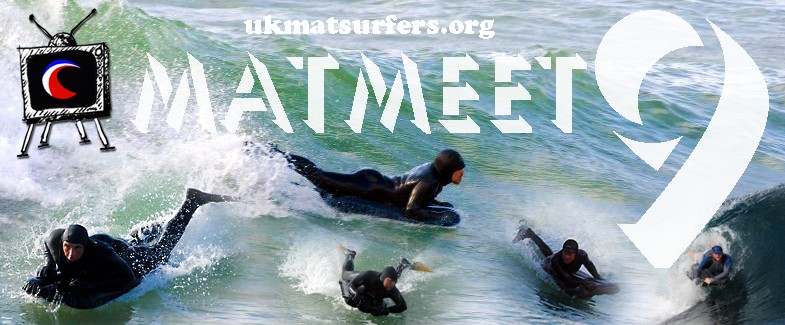 So then, the 9th UK Mat Surfers Matmeet went of in head high glassy surf at the South Coast gem that is K-Bay in Dorset. There were some unfortunate cancellations, for fully understandable reasons, which was a real shame for those who couldn't make it because the waves on the day were lush!
Speaking of people with god excuses, Stu was on a trip to Barbados (poor fella) but very kindly donated two beautiful handplanes as prizes. These went to the Wave of the Day winner and (for obvious reasons) the Londest Swim winner. Huge thanks from everyone Stu.
In the end, the meet was attended by:
Bluey
Tommo
Gaz
Papa Joe
Piskian
Grayman
The day was essentially spit into 3 session across 3 peaks, althugh there was no let up between with a good long morning in the water and abut 2000 miles of paddling being enjoyed by all. The first part of the day was spent on the main peak in the Bay which looked clean and glassy from the shore but actually wound up being a bit fat with the high tide. We still had some good long waves on that though, including some party waves.
After this, it was on to the polar opposit as we paddled a long way down the coast to get on what looked like clean, hollow and empty lefts from a distance. When we got there, it was certainly hollow! Basically, open water swells hit a shallow as hell ledge to go from flat to square in a nano-second! The odd one was surfable but for the most part, you just couldnd't get close to the paddle speed needed. Basically, we needed a tow set up!!! That said, we got some approving nods when we joined the pack of locals on a far more managable peak and it was great to see Gaz earn himself a place in the UKMS annals, courtesy of an express trip to the bottom.

In the end, it was a session of glassy, peeling lefts, wonderfully friendly, respectful and interested locals, stunning natural beauty and the kind of fun you can only get surfing with a pack of other matters.
Stoke-o-metres set to "F"!

So, here's the other stuff, then it's on to the surfing shots.
First off, wave of the day went to Gaz down to the sheer balls (or fool-hardiness) of kicking into a certain proper heavy pounding:
Here's the wave in question:

Best party wave went to Gaz, Piskian and Bluey:
Finally, Longest Swim went to Tommo. This was a thorughly well won award as we ALL had lengthy swims on this day!
There was no award for it but credit goes to Gaz for his mat collection skills on the inside:

Finally, here's Gaz's dog, Buddy, sporting his bravery medal for providing Matmeet Security:

So then,some surfing shots...
PJ geting his act together.
Bluey gets int an early fat one.
Bluey again, making the most of his Fatty's gliding prowess.

Piskian, up on the rail on his Neumatic Contrail.

POV, Papa Joe turns under me on a right.
The drop I made on our slabby excersion... I didn't get far!
Bluey gets in to one.
Gaz... "You're meant to go that way!"

Piskian.

Piskian on a bomb! Believe it or not, this was the Best Party Wave but the other two are in the soup. That high line paid off!

Bluey cutting back on G-Mat 3.
Piskian again, trade mark bottom turn.

Gaz on his last wave; a bomb right to the shore.
So there you have it. The video will come along in the next week. All in all, this was a great meet. The surf was fantastic, prbably the best yet for a meet. Certainly head-to-head with Matmeet 5.
Well done to everyone who made it and thanks to Gaz and PJ for seeing us right. Also, thanks to the K-Bay locals for generally being a really good bunch. Smiles all round. Some spots could take a leaf....
Cheers
G